Thanks for all your help, it would have been pretty darn tough to get it this far without you guys.
Its a 1934 Plymouth PF Rumble Seat Coupe
Engine:
331 Chrysler hemi (1955)
10:1 Ross Racing forged dome pistons .030 over
.480 duration cam
EFI by Hilborn and Momar Injection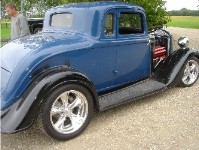 Haltech ecu
weldon fuel pump, regulator, filter
Drive train :
Mustang II front end
Front clip built by Fatman Fabricators
'96 Corvette dana 36 rear 3.08 gears
Rear clip made by progressive automotive
4L80e trans 2200 stall speed
Chip foose custom Nitrous II's
17X6 and 18X8.5
BF Goodrich all around
Extras
Flaming river steering components
Hydro boost brake system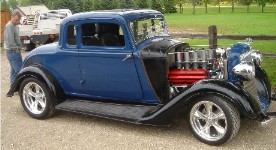 stainless firewall
Stainless gas tank
Stainless lines for everything
Lokar shifter
Stewart warner wings gauges
Custom built H member
boxed frame
New floor pan and trunk pan
honda civic leather seats
Not done:
Body work, paint, and interior ( hopefully will be in magazine after those items are completed... )
Let me know what you think! by the way I am 29 yrs old, my dad helped on some of the fabricating end, a lot of weekends went into her. Thanks again!
Rob Schwartz